Vision
We envision our UCSF community as an environment that fosters mutual respect, empathy, and trust.​
Mission
We will achieve this by expanding the use of restorative justice practices and applying a restorative mindset in all the ways we build community, strengthen relationships, and respond to harm. By incorporating restorative justice practices into community-building and problem-solving, we foster healing and a spirit of camaraderie throughout the university and UCSF Health. 
Support
Due to the interconnectivity of the UCSF community and in recognition of the value of RJP services, Chancellor Sam Hawgood, with the full support of senior leadership, provided funding for the expansion of RJP services. While resources and staffing continue to be limited, the RJP services, previously only offered to students, will now be available to all trainees, faculty, and staff across the entire UCSF organization. Formerly a unit within Student Academic Affairs, RJP is now housed within the overarching Office of the Executive Vice Chancellor and Provost.
Chancellor Hawgood highlighted RJP in his 2021 State of the University Address in October 2021:
---
Our Team
Maria Jaochico, Ed.D. (she/her) is the director of the Office of Restorative Justice Practices and has worked at UCSF since 2016. Dr. Jaochico earned her doctorate in higher education administration from the University of West Georgia, where her research focused on implementing restorative justice practices in graduate-level education settings. She holds a master of education degree in student affairs administration from Clemson University. Maria's warmth and genuine caring for the well-being of members of the UCSF community shine through in every one of the Circles she has facilitated to date.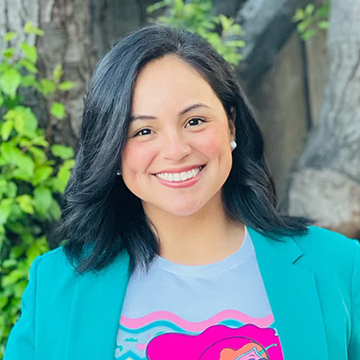 Juri Sanchez (she/her/ella) is the associate director of the Office of Restorative Justice Practices. Juri is a proud first-generation Latina, born and raised in the Bay Area, dedicated to her community's success. Her passion for advancing equity and social justice is informed by her trajectory navigating the education system and growing up in a single-parent immigrant household. She holds a Master of Social Work degree from the University of Michigan. Over the past seven years, Juri has contributed to improving K-12 education, higher education, and foreign policy- through direct services, program development, and policy advocacy. Juri believes restorative justice practices are tools to strengthen communities by co-creating collaborative environments where people feel a sense of belonging.